Reflections on one of the worst socio-environmental crimes in Brazil from an international viewpoint
Members of the MAB Solidarity Committee in the USA share their reflections on the 3 years of the Brumadinho crime
On January 25, 2019, one of the worst human-caused environmental crimes in Brazil's history occurred when a dam owned by the transnational Brazil-based mining company Vale SA collapsed in Córrego do Feijão in Brumadinho, Minas Gerais, Brazil. When the dam breeched, it killed 272 people, with hundreds of thousands adversely affected from the socio-environmental damage caused. This dam breech was not an accident. Vale knew something like this could happen (See here for more background on Vale).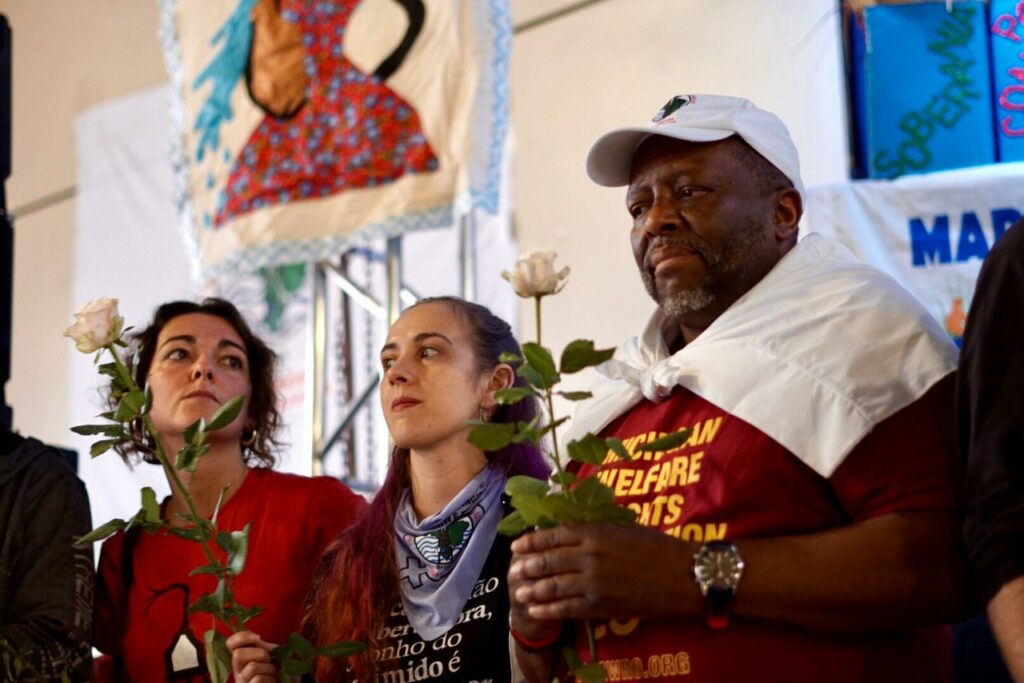 In January 2020, as part of the one-year commemoration of this crime, The Movement of People Affected by Dams (MAB) organized a delegation of people (350 people from around Brazil and 17 people from around the world) to come to Brumadinho to hear firsthand from people who lost loved ones, and to demand that Vale SA be held accountable for its actions. As a founding member, Rob, of the US Solidarity Committee with MAB, and the newest member, Caitlin, we were honored to be invited for the commemoration. What follows are some of our reflections on the 1-year commemoration, and some thoughts for how more solidarity can be leveraged today, as the impacts of the Brumadinho crime continue and compound with new flooding and dam breech events just this past month.
Rob
"They intended to bury us but they didn't know we are seeds."
As a MAB leader drove us into Brumadinho, my thoughts quickly returned to the 2016 Mariana dam break commemoration, which I took part in— and of the images fresh in my head of the destruction imposed on that community in 2015. I wondered aloud to the group in the car and asked, "how much more can people take"' How do these injustices continue and the actors responsible for these crimes face no punishment?
There was so much traffic trying to get to the commemoration that we eventually left the car in the parking of a private university and walked the final kilometer to the event. Along the way we walked over a small tributary to the Paraopeba River and signs of the dam break were apparent as the water was muddy and took on a deep brown color. As we approached the staging area of the event it was clear to anyone attending the toll this tragedy had taken on those who were present and including yours truly. Strangers were hugging members of families who lost loved ones and I found myself doing the same. Pain and suffering know no language barrier but I felt a strong need to hug and console people I may never see again. This tragedy also reminded me of the privilege I have as a United States activist and organizer with some strong connections to certain mechanisms in the United Nations High Commissioner's office and I promised to every family I spoke to– that I would do everything in my power to bring these crimes and injustices to the United Nations. At the end of the program the organizers of the event released 272 red and white balloons bringing to a close the activities of the day. I wondered "what's next"? "Will there be closure for the people affected"?
Caitlin
"Vale destroys, the people build!"
I arrived in Belo Horizonte on January 19, 2020. On my cab ride to where I would be staying, it started pouring rain, and traffic came to a standstill. The driver said he could go a different route (down a hill) but noted that the roads could flood, and it can quickly become perilous, so it was better to stay put for a while. I said I trusted his judgment and that we should remain stopped. I watched out the car window over the course of thirty minutes the street below us (the possible detour) turn from a road into a river. The ferocity of the water, and the speed with which it rose, sweeping downstream with it anything in its path, made me reflect on Washington Blvd in Pittsburgh, PA, my home and where I am also engaged in water justice work where people have died from flooding. As I watched the water rise, and objects, trash, then a part of a door off one of the buildings get taken rapidly downstream, I thought about how all of those homes were totally flooded with water (and dirt and sewage) on the first floor. The cab driver told me that people die. I thought about how climate change will only make these things worse. I thought about how the poor (usually, for sure, there are exceptions) live in the areas that are flooded, with no resources to escape. While rain and floods might be "natural" disasters, most of the time, the impacts of flooding are not felt equally, and socio-economic and geopolitical structures shape who is and who is not impacted.
I thought about the fragility of life. I was safe and privileged above in the car. As quickly as the rain had come, the deluge stopped, and traffic slowly resumed. But when we did get started moving again, the trip was a little precarious due to all of the flooding. Eventually (and just as it started pouring again), I made it safely to where all of us international invitees were staying (a training school run by one of the major unions). I share this experience because it showed me the power and ferocity of water in the region; it gave me more context to understanding the area's struggles with flooding and water and both the similarities and dissimilarities with struggles closer to my home.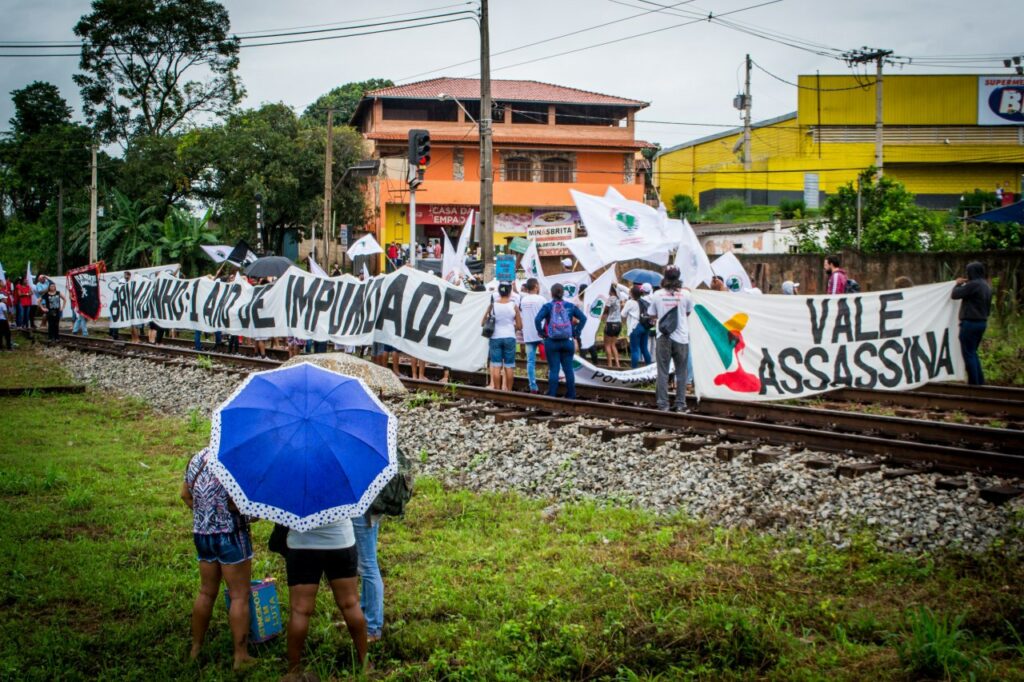 Rob and Caitlin
For the first time, we found ourselves together in Brazil at the same time. During one of the final days of the time there, we discussed how incredibly innovative, inspiring, practical, and revolutionary MAB's work is—yet no one knows about it in the U.S. What might be learned if we did, we pondered to each other? We reflected on all of the linkages and solidarities forming and being built through this convergence, with both new and long-established collaborations between academics, researchers, and social movements. (Most of the other international guests were also affected by dam projects in their respective countries, which included Colombia, Venezuela, Guatemala, Spain, France, Italy, Basque Country, Turkey, Balkans, United States, Mexico, Canada, Chile.)
On January 20, 2020, 350 plus people marched through a middle/upper-middle-class neighborhood of Belo Horizonte chanting, "It was not an accident, Vale killed the river, killed the fish, killed the people," and "Vale destroys, the people build." See pictures below.
On January 24, participants gathered for an international seminar organized by MAB titled: "Profit Does Not Value Life! One Year of Vale's Crime in Brumadinho." At the end of this seminar on January 24, all of the international participants were asked to come to the front and stand up. We were each given a rose by members of MAB from the community, and words were spoken about the importance of international solidarity in bringing justice to the Brumadinho affected communities and in creating the world that we want. The moment was tender, emotional, powerful, and felt like a more horizontal power dynamic being led by the grassroots of the people impacted by this crime. It also spoke to how MAB sees its fight as an international one.
We know that the center of imperialism (an international form of capitalism) is the United States, and that at the same time most of the people in the United States also do not benefit from this system and suffer from it and interrelated forms of oppression such as patriarchy and racism (as MAB is always astute to point out their intersections).
While Brumadinho is considered one of the worst socio-environmental crimes in the history of Brazil, it is not the only example of a dam breach. In 2015, a dam collapsed in Mariana, also in Minas Gerais, killing 19 people when two dams ruptured at an open-pit mine. That mine is operated by Samarco, a project between Vale and the Australian company PHP Billiton (Lazare 2015). The impacted communities still suffer the effects and are without reparations. On January 24, 2021, the second anniversary of the Brumadinho collapse, a dam collapsed in Santa Catarina (MAB 2021a). On March 25, 2021, a dam in Maranhão state, owned by a subsidiary of Equinox Gold (a Canadian-owned company), collapsed, polluting the water reservoir of the city of Godofredo Viana, leaving four thousand people without potable water.
On January 22, 2021, MAB held a virtual international press conference to commemorate the two-year anniversary of the Brumadinho collapse. MAB noted how this is a global fight and international solidarity matters because corporations know no borders and can extract, exploit, and take human life—and do so with impunity. A significant reason for this is that Vale was turned from a state- owned company into a privatized one. MAB asserts that this privatization has robbed people of their sovereignty and wealth, operating from a "logic of profit" rather than a logic of life (for more on this, go here).
The Brazilian government and Vale SA reached an accord in February 2021. MAB argues, however, that this accord does not hold legitimacy; that Vale and the government did not in fact include the affected population in the process and thatthe dollar amount awarded does not begin to cover the irreparable and ongoing damages caused by Vale SA.
In Brazil, and globally, mining disasters, energy blackouts, lack of water, and dam ruptures are intrinsic to the current mining model and capitalism. Corporations are guided by profit and financial capital, and governments all too often fail to hold corporations accountable, and the economic logic often encourages corrupt relationships between businesses and states (for more on this, see here).
On this third anniversary of the Brumadinho crime, and in the face of ongoing and new calamities, we stand with all of those impacted; we are also aware that placing profit over life has contributed to the horrific flooding and dam ruptures currently facing regions of Brazil. In late 2021 and early 2022, the states of Bahia and Minas Gerais have experienced catastrophic flooding from unusually heavy rains. Nearly 100,000 people are homeless, and approximately 700,000 people have been displaced, the vast majority in the state of Bahia. Dozens of people have died and to date, four dams have ruptured in Bahia. Climate change has compounded with exploitation and malfeasance by large mining corporations and agrobusiness, emboldened by a lack of government planning and regulations under the current administration.
Flooding and displacement events are branded as "natural disasters"; yet there is nothing "natural" about the current economic model that places exploitation of resources and denies basic rights to people: "In this capitalist environment, the regime of rivers goes from natural to artificial, guided by the greatest profit to the detriment of any and all forms of life."MAB continues to organize, and to fight for "water for life, not for death!" They have also launched a campaign in solidarity with affected families to raise needed funds.
We stand in solidarity with MAB and share the vision for a different society. As MAB asserts, "Our struggle is nourished by the deep feeling of love for the people and love for life."