March in Porto Velho demands royalties of dams for education
Thousands of people affected by dams, small farmers and workers of the city marched this Thursday (11) in Porto Velho, capital of Rondônia. Also highway blocking and strikes at the […]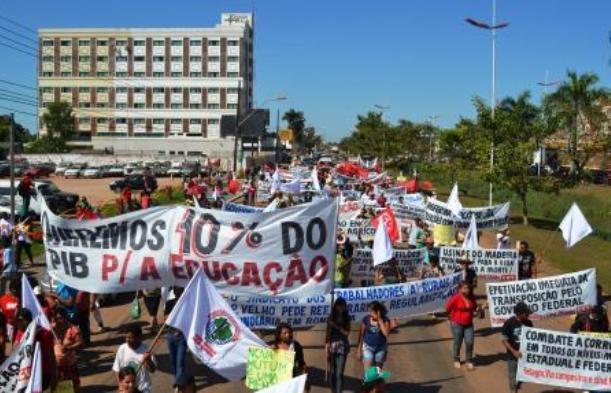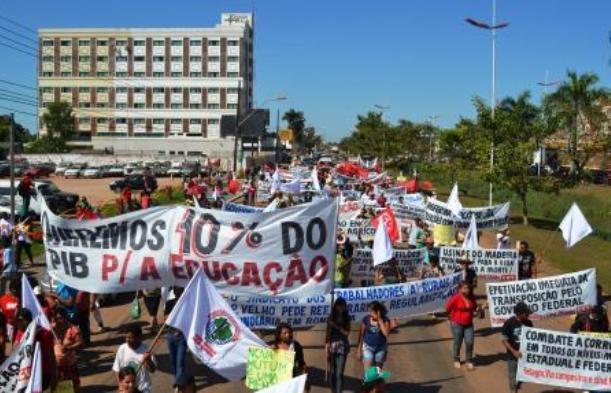 Thousands of people affected by dams, small farmers and workers of the city marched this Thursday (11) in Porto Velho, capital of Rondônia. Also highway blocking and strikes at the cities of the countryside took place.
The unite mobilization is organized by the Movement of the Affected by Dams (MAB), The Land Less Workers Movement (MST), Small Farmers Movement (MPA), Via Campesina, Federation of Workers of Agriculture in Rondônia (Fetagro), Central Workers Trade Union (CUT), Central of Workers of Brazil (CTB), Trade union of the urban industry workers of the state of Rondônia (Sindur) and many other organizations of the city and countryside.
In Porto Velho, the protest marched the streets of the city and at the front of the Governor's Palace to deliver the agenda of state demands, which request the destination of the royalties of the hydro-power dams to improve the education on the state and its application at the solutions of rights of the affected people by dams on the river of Rio Madeira.
Protesters also require improvements in health, transportation, end of dismissal of the vigilants, agrarian reform and a policy for strengthening the food production of small farms.
Within the state, there was also blocking of federal highways in Vilhena, Jaru and Pimenta Bueno.
The demonstrations are part of the national mobilizations of the working class who claim structural changes for the country.